Elephants. The gentle giants that are elegant yet dangerous, shy yet majestic to look at. There are a few places in the world where they call home and Malaysia is one of them. On a serious note, the population of wild elephants are dwindling. For that, we need to give support and create awareness to protect the species before it is too late. Now, as a Malaysian I am writing here to stress about the great importance of these lovely beings to have a legacy in this beautiful country we all share. Elephants are not that different compared to humans you might be surprised on how these creatures have their quirks and personalities like us too.
Elephants are weridos like us too.
They love cuddles.
They're artistic.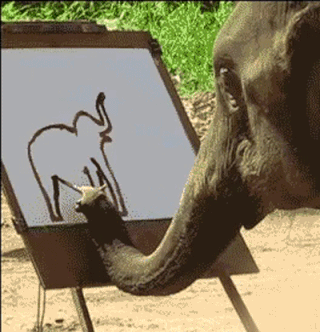 They are silly.
They give great massages.
And sometimes they just don't give a eff cause they are elephants and they own it.

Kuala Gandah Elephant Santuary
A perfect place for you to visit them is to head to Kuala Gandah Elephant Sanctuary.  It is a 2-hour ride from Kuala Lumpur and it focuses on the conservation work of prohibiting poaching and habitat loss of Malaysian Elephants by the National Parks and The Department of Wildlife of Malaysia. There is a bunch of activities to do here which you could help to support the effort and of course have a great time. These friendly elephants are sure to make the trip worth while.
What separates this establishment from the Thai tours is the quality and the compassion of the sanctuary. The purpose of opening this up to the public is to educate the public about these elephants and let their life stories be heard. Each of the caretakers genuinely care for their elephants and they are treated very well here with the support of the government and tourism department. Why not pop by and show your support while have fun with them?
Take and afternoon to say Hello to them,
Look at their happy faces when you feed them.

Give them hugs to know that you care.
And look at the excitement when you give them a bath.
Be sure to take this chance to meet these adorable yet powerful cuties. And they will always remember that you came to say hello.
If you are alone, with friends or with family, it is always a great idea to come and visit the Elephant Santuary in Kuala Gandah. Knowing how important as us human beings to be responsible to help and play our part in protecting these species,  why not make it a fun experience while you are here in Kuala Lumpur. Now that another goal to add to your checklist of what to do in Kuala Lumpur aside from the sights and sounds of the city.
Take your time and enjoy the experience. Dont just experience this magical site behind the screen of your phone. And always remember, elephants are divas and they can get away with anything.
How to get there
Personally, doing this trip yourself is rather difficult and expensive. The journey from Kuala Lumpur takes about 1 hours and 40 mins from Kuala Lumpur city center. Planning the trip yourself can help to save a buck or two but going in a larger group could bring better benefits as schedules are more predictable and it is less of a hassle to find own transport as most Uber and public transport are usually unavailable to bring you there. Following a tour is much better in this case because it will sure to give you the best experience of what the place has to offer covering most of the fun activities.
PS : If you are lucky, you might just jump into the stream with the elephants and bathe them. So bring clothes. 
If you are interested, click on the image link below to start this exciting, adventurous, tender and extremely valuable experience with Adventoro. The trusted professional adventurers proven to give you guaranteed satisfaction to your Elephantastic fun.