The word laundry exists in everybody's life. Regardless if you are a backpacker, a chef, a writer or someone who just stays put in on spot for the rest of your life, we all need to do laundry. The basic human errand that needs to be done no matter where you are and what you do.
Now, living out of the backpack is fun and yet we have encountered many scenarios where living the backpacker life has its not so glamorous instaworthy moments when it comes to laundry problems. We do have 99 problems but a regret this lifestyle aint one.
We have encountered countless laundry related methods that our bunk mates have creatively done and I would like to enlighten you about these creative methods on how to do your laundry on the go.
The Bag Method
Known also as the scuba bag method or the alosak bag method. This is the easiest method to wash your clothes in small quantities. The bag method is ecofriendly and it requires no electricity or ahhem extra money if you are willing to do it routinely. All you have to do is to put some clothes in any waterproof bag, add water and soap, roll it around and let it soak as long as you can. Rinse the contents out and then squeeze them dry. There are many firms coming up with these customized laundry washing bags such as Laundreez and the Scrubba bag to utilize this method of laundry. In my opinion, this is great for backpackers, hikers, and gym freaks who needs to get their laundry done without the use of a washing machine.
The sink method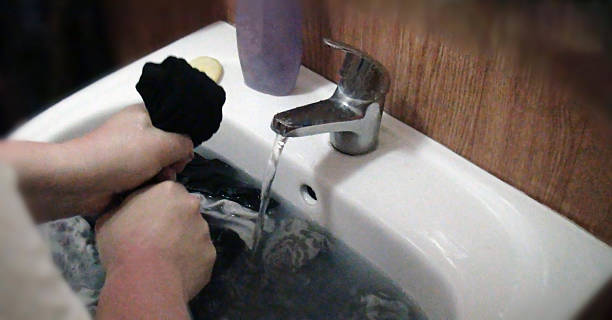 Ah yes, the sink method. We are all very familiar with this one. Just plug this sink, fill it up with water and dump you clothes in it and use your hands to do the work. The most primal laundry method known to man and yet, here we are, still doing it because we are cheap AF.
Pail Method
If you can find a pail or a bucket in the bathroom, this method is the way to go. Just like the sink method. Still primal.
Washing your clothes while you shower.
Moving on to something less conventional. Who knew it is possible to get clean clothes and get a clean self while you are showering. Just as you do when you take a shower. Wash your clothes like your body and slowly strip it off one by one after you are done scrubbing. I don't think this is the best method out there but hey it saves water but, seriously it is weird.
Coin operated laundry
Coin operated laundromats are on every corner of the backpacking world. This is the most common way to do your laundry when you are on the go however, it takes time. Time to bring you big bag of laundry around the corner, wait for an available washer, load it, struggle with foreign language yada yada yada… The worst part of using a coin operated laundry is it  takes a BIG chunk of your time off your wanderlust schedule. We have all been there, staring at clothes going round and round while struggling to connect to the wifi which never works in most cases. Personally, I try to wear my clothes over and over again until I run out of underwear to avoid this to the best that I can.
So if you are a hobo bag washer, the conventional laundromat guy or the quirky clothes bather, I have a solution to your laundry needs and say goodbye to wasted time, awkward looks and missing laundry.
Why not make a phone call or an email, get someone to pick up your laundry, and drop it off to the reception at the end of the day at a low price. This my friend is what Mama Wosh services could do for you.  Mama Wosh is a one stop laundry service which practices pick up and drop off laundry to your doorstep. With their amazing affordable prices, you can say goodbye to sitting at the laundromat while wishing you could do more in the lovely city you are here to visit.  They have great reviews and the best of all they are open 7 days a week.
Click on the image and set your pick up time now.