Here is one for the ladies. Being on a budget can sometimes be a bummer when you are between spending or splurging on a holiday. Thank god for ladies night, we get to come out, put on our heels and have some fun. Like other cities of the world, Kuala Lumpur does have some crazy deals for their ladies night promos.
1. La Bodega @ Telawi, Bangsar
La Bodega is the epitome of ladies night promos in Kuala Lumpur. This hip Spanish influenced bar gets the ladies flowing in every Thursday. Their ladies night is where most of the women gather every Thursday to grab a free booze. Yes, you don't need to pay a single cent for free flow of wine and cocktails. Ladies night free flow booze starts from 8pm to 10pm; After that,t the drink stops flowing and the tabs move in. The atmosphere here is lively. With lots of different expatriates and hip locals, this place is where you need to be to mingle and get your grove on.
2. twenty.one kitchen + bar @ Changkat, Bukit Bintang
twenty.one kitchen + bar in the lively street of Changkat merges the experience of both worlds. They have a great dining restaurant at the bottom and a lively bar upstairs. While most bars offer ladies night once a week, this place does it twice a week. Every Wednesday and Thursdays, they will offer a free flow of cocktails for ladies from 9pm to 3am.
The choice of Raspberry Fix, Tropical Punch or Sour Apple Collins cocktails sweetens the deal further
.
3. Shelly Yu's Bar @ Telawi, Bangsar
With their Malay Chinese influences in their decor, this lovely bar is one to remember. Their Malaysian inspired menu grabs the nostalgic and shifts it to the chic future. After the dinner crowd, the floor space transforms to a bar. Ladies night at Shelly's starts at 9pm and ends at 12pm every Wednesday.
4. SkyBar @ Traders Hotel, Kuala Lumpur
This high end, majestic view bar is where the elite wine and dine. Though pricey on the menu, the place offers a great 180 degree view of the city's skyline. Having a glimpse out the floor to ceiling windows, they glittering twin towers will make you go "WOW". The great steal from this place is the ladies night promo. Each Wednesday of the week, their free martinis from 6pm to 11pm each night. On top of that, they do offer a 20% discount on food on drink with the best views of Kuala Lumpur.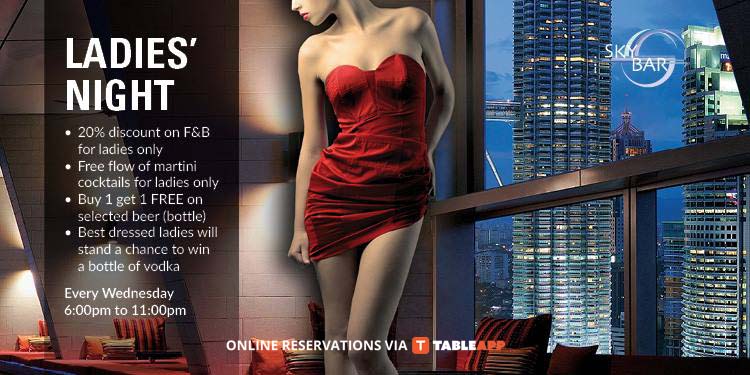 5. Como Bar @ TREC, Jalan Tun Razak
Located in the hottest drinking spots in Malaysia, Como Bar has to be on the list for the best ladies night in town. Why you might ask. Como bar ladies night is a deal steal. With a selection of free cocktails from 9pm every Wednesday, you might get free hourly shots as well. Como Bar's ambiance and great DJ will get you and your girls moving at the end of the night.